Points Miles and Bling (blog) contains referral or affiliate links. The blog receives a small commission at no additional cost to you. Thank you for your continued support. Credit Card issuers are not responsible for maintaining or monitoring the accuracy of information on this website. For full details, current product information, and Terms and Conditions, click the link included.
Lufthansa First Class is a unique product in the aviation industry that is highly sought after by award travellers using their Air Canada Aeroplan points. The product may not have the glitz and glam of a middle eastern airline or the latest tech gadgets, but it has a charm that has always drawn people to it. It provides a unique experience that most other First Class products do not, such as a private First Class Terminal (FCT) in Frankfurt, being driven to the plane by a private car, and the nostalgia of flying in the nose of a Boeing 747. Top this off with excellent service throughout the journey and a bed that may be one of the best in the sky; it's hard to ignore Lufthansa First Class.
Getting into Lufthansa First Class on an award ticket is not straightforward and requires strategic planning to be successful. This article aims to provide the knowledge necessary to book the coveted Lufthansa First Class using Aeroplan points through an 8-step guide.
Lufthansa First Class Routes
The route network for Lufthansa First Class is quite extensive. It includes several cities in North America as well as many other international destinations. Here's a look at all the destinations served by Lufthansa First Class from their Frankfurt and Munich hubs.
The famous route amongst award travelers is on flights to/from Europe, specifically Frankfurt and Munich. This is because the pricing is fair, award availability exists, and there aren't many other better ways to cross the Atlantic in luxury.
While these transatlantic (TATL) routes are very popular, it also means award space is highly competed for. Specifically, westbound flights to North America from Frankfurt are more popular than eastbound as the flights are during the day, have a longer flight time, and include the FCT experience. In contrast, FCT access is only possible for a flight to Frankfurt with a connection. However, this requires clearing EU immigration and walking to the FCT. It's not ideal, but it is possible with a long enough layover.
It's also worth noting that First Class on Lufthansa is found not just on their Boeing 747-800 but also on the Airbus 340-600 and Airbus 380. The hard product is the same amongst all three aircraft, with only minor differences.
A tool such as flightconnections.com can filter routes by aircraft type. For example, here are all the routes that Lufthansa flies its A380 with first class.
Booking Strategy #1 – Book with Air Canada Aeroplan
Lufthansa First Class awards are best booked with Avianca LifeMiles, Air Canada Aeroplan, or United MileagePlus. While LifeMiles has the best price, it does not often have access to all Lufthansa first-class award seats. MileagePlus can also be used; however, those miles are best saved for other purposes and cost the most.
Air Canada Aeroplan is the preferred method of booking Lufthansa First Class. It has access to every available award seat, the price is fair, and, most importantly, the Air Canada mobile app provides the ability to grab an award seat when it becomes available quickly. Lufthansa first-class seats are highly contested and often disappear within minutes after being released.
Booking Strategy #2 – Have the Aeroplan Account Prepared
When an award ticket becomes available, there is no time to meddle with point transfers into Aeroplan or have to enter the traveller's birthdate; have this ready! Speaking from experience, these minutes of delays can destroy the dream of flying in Lufthansa First Class. It is, therefore, imperative to have the required Aeroplan points in the account and the profile up to date with a credit card and traveller information.
The required number of Aeroplan points can be determined from the award chart that is available here. Lufthansa awards are considered partner awards and are priced statically based on distance. The chart below highlights the partner cost for TATL Lufthansa flights. The cost will be either 90,000 or 100,000 points. Note that if Air Canada flights are mixed in, the price may dynamically change for the better or worse.
If there are not enough Aeroplan points in the account, there are many ways to accrue Aeroplan points. The obvious choice by transferring points from a program like American Express Membership Rewards or through credit card sign-up bonuses. American Express has excellent offers on Aeroplan Reserve and Business Reserve cards with up to 120,000 and 125,000 points, respectively.
Booking Strategy #3 – Learn the Lufthansa First Class Release Pattern
Lufthansa has a rather unique but predictable first-class award release pattern in that availability only becomes available closer to the intended travel date (close-in). When exactly award space is released and how many seats are released fluctuates depending on many factors, including the route. The pictures below show T-0 availability using expertflyer.com. Notice how five first-class seats are available, with only four available to book from Aeroplan.
Pre-pandemic, 14 days before departure (T-14), you could book all open first-class seats. Then it changed to T-7, then to T-3 but at specific times during the day, then now the pattern keeps changing. Far too often do I now see space becoming available only at T-1. The pattern is not perfect anymore, but there is still somewhat of a release pattern which is, unfortunately, also dynamically changing. Take some time to study the release pattern for the proposed route.
In addition, set up flight alerts using tools like expertflyer.com or seats.aero, but do not rely on it entirely, as alerts are not sent out in real-time. Alerting systems should only be used as a backup.
Booking Strategy #4 – Use the Air Canada App
Employ the "Book Now, Think Later" thinking when booking Lufthansa First Class with Aeroplan points. When award space becomes available, it will go quickly, often within minutes, so every second is essential—the key to success. There are only four screens on the app to go through to book a flight, so I implore that it be used, as shown in the example below:
Booking Strategy #5 – Book Any Available Seat
Lufthansa no longer makes every seat available at once. For example, if six seats open, they may release two seats at T-7, another two at T-3, and no more until T-1. The more open seats there are, the higher the odds that Lufthansa will release an award seat(s).
The strategy to secure more than one seat is to book seats as they become available, even if they are less than your travelling party size. For example, if three people are in your party and only one seat is released at T-5, grab the one seat and watch for the additional 2 to release. The example below shows one First Class seat available at T-5, yet the seat map shows four available seats. Therefore, there is a good chance that an additional 1-2 seats will open in the subsequent days. It's important that all fares be booked flexible to allow for free changes.  In this example, flight from Frankfurt to Chicago with only one seat released T-5, if at T-4, four seats become available from Frankfurt to Washington, then you would want to cancel the one Frankfurt-Chicago and rebook to Washington instead.
A tip for families travelling with children is that a child cannot be booked online individually and must be accompanied by an adult. Therefore if 2+ seats open up and there is a child in the party, secure the award seat for the child along with an adult first.
Booking Strategy #6 – Be Flexible on the origin/destination
This strategy is the crucial element to be successful above all else. Flexibility on the origin/destination will increase the odds of flying Lufthansa First Class. Lufthansa flies from first class to/from both Frankfurt and Munich. Here are the routes with the best award availability for TATL flights, in order and subject to change:
Eastbound flights to Frankfurt or Munich from North America from Chicago, Boston, Washington, NY
Eastbound flights to Munich
Eastbound Flights to Frankfurt
Westbound Flights from Munich to Eastern US
Westbound flights from Frankfurt to the eastern US
Award availability tends to be higher for east coast US cities than the west coast.
Booking Strategy #7 – Have Backup Flights/Understand the Opportunity Cost
Since Lufthansa only releases First-Class award space close-in, most travellers assume this "last-minute" travel will not work for them and forgo the Lufthansa first-class opportunity. However, there is still a way to make it work, as follows:
Book preferred flights months in advance when award space is available.
Cancel/Change the original booking to fly Lufthansa first class if award space becomes available.
The solution seems simple, but #2 introduces an opportunity cost resulting from paying a fee to cancel or change the original booking. This could be hefty if it is a revenue ticket, but an award ticket may incur marginal fees, if at all any. Another additional cost is the possibility of purchasing another ticket (revenue or points) to position to/from the city served by Lufthansa First Class.
Let's look at an example: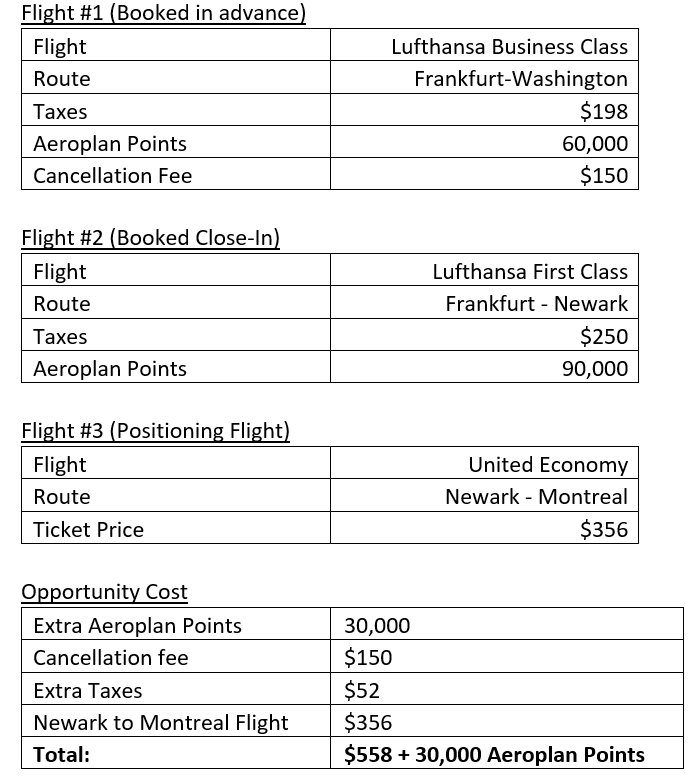 This is a simplistic example of how flights for a trip can be booked far in advance and yet still take advantage of close-in Lufthansa First Class award availability. Whether the $558 in this example is worth is a personal decision. Of course, the opportunity costs drop if the Aeroplan ticket is booked as a flexible fare and award availability is found from Newark to Montreal positioning flight.
Booking Strategy #8 – Be Prepared!
The last strategy to successfully grab Lufthansa's First Class Award space is simple: ensure you have done your homework and have an action to execute when the award space becomes available. Don't get cold feet. Remember there are 24 hours to cancel for free.
Bottom Line
Lufthansa First Class is among the most straightforward yet complex awards to book. Although there is some predictable pattern of when the award seats are released, having the plan to execute the booking is the key to success. If you have done your homework and prepared by leveraging my eight strategies, it will almost certainly guarantee a seat up front on the coveted Lufthansa First Class using Aeroplan points. See you in the sky.